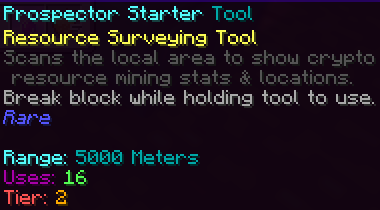 To begin break a block while holding the tool. It will either show you a direction towards a location for crypto resource mining or "no near resources found". Once a Resource node is found all you have to do is head towards it.
---


Once on a resource node you will be able to see the stats of resources on the node, by breaking another block while being near the area.
---

You can get up to 6 different coins on a resource node.
BTC, ETH, MRX, SCC, SEND and OHMC.
---